Agile Open Northern California 2010: Hosts
Ainsley Nies innovator, synthesizer and leader for more than two decades on the people side of information systems work. As the principal of Acorn Consulting Enterprises, I consult with groups, organizations and individuals who want to perform at their highest level. I'm a facilitator (chartering, retrospectives, Open Space, World Cafe), instructor (retrospective facilitation, agile management) agile project manager and coach (personal retrospectives).
After many years as a sw developer then moving into project management, I discovered XP and agile in 2002 - Eureka! Pursuing that discovery, I started the Agile SIG and led it and the Retrospective SIG at Hewlett Packard until corporate life lost its appeal.
I'm the initiator and co-founder of Agile Open California, an instructor in the UC Berkeley Extension Agile Management Program, on the leadership team of the Bay Area Agile Project Leadership Network, Steering Committee of the PMI Agile Community of Practice, Board President of the Computer Technologies Program and Convener of the Pacifica Branch of AAUW. Any spare time I can eke out I spend in my garden or hiking.
---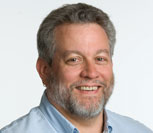 David Chilcott has been designing and building custom business applications since 1989. He's the lead systems analyst and designer for Outformations, Inc.
His ability to abstract and capture complex system requirements and application flow, combined with his relational database application development experience, ensures that every Outformations solution has a solid, lasting foundation. His technical skills include use case and UML modeling; Unified Process, scrum and other agile/xp development methodologies/practices; application architecture and design; web and desktop application development; and various DBMS systems.
In addition to his background as a system architect, David holds a degree in group dynamics, and has completed formal training in creative problem solving. Using this experience, he leads focused, task-oriented client design sessions. His collaboration and communication skills support effective Agile project management and team facilitation, training, and consulting.
David is the founder of Outformations and a principal. He is a past president of the Bay Area Association of Database Developers, the founder and a board member of the Bay Area Agile Project Leaders Network (BayAPLN) local chapter, and he co-leads the Bay Area Rational User Group (BayRUG), co-hosted by Outformations.
David is a husband, step-father, and grandfather, and is active in healing, diversity, & social justice work.
---
Steve Bockman is an independent software developer who began his career in 1977 in a utility position, installing software packages for a manufacturer of business computers. Since then he has worked in the fields of speech recognition, terrain analysis, computer graphics, desktop publishing, industrial automation and web applications.

Steve's first exposure to anything Agile occurred in 2000, but his involvement began in earnest in 2005 while participating in the development of a client/server application where changing requirements were part of the ground rules. Steve was responsible for introducing many Agile principles and practices to the project, and has been an Agile coach and innovator since that project's inception.

As the founder of North Bay Agile, a special interest group dedicated to the pursuit and study of Agile software development in the San Francisco North Bay, Steve continually strives to communicate the essence of Agile development to novices and advanced practitioners. He has given presentations on estimation, test-driven development, pair programming and refactoring at North Bay Agile, BayXP, BayAPLN and BAADD, as well as at the Agile2007 and Agile2008 conferences.
---
Nate Delgado - I study computer science and work with Professor Hilary Holz in the AHAT lab on CSUEB's campus. I've been in the lab for one year and this is where I was first exposed to agile philosophy and methodologies. The concepts were so foreign to what I was learning in school, I couldn't fight the curiosity. About a year ago I began seeking more information, which led me to volunteer for the Agile Open Conference 2008. Attending the conference and being on the board for this year's event is edifying, and I'm grateful to all who help me as I continue to learn.
My biotech career consisted of doing research in gene therapy at Chiron and then Lynx Therapeutics where I operated/fixed high speed cell sorters (MoFlo). I love the outdoors, eastern philosophy and art, wednesdays for the comics, the Mets, and Cuban jazz.
---
Joanna Zweig has been working with hyper-productivity in teams since she noticed, in 1983, that software development and theatrical production exhibited the same phenomenon, Group Coherence. Her research on Group Coherence, evident in her recent writing collaborations with Cesar Idrovo, can be found on AgileJournal.com. She consults in IT Project Management with groups who wish to explore ways to enhance Agility with coherence in complex environments to access hyperproductivity in teams.
---
Amy Lightholder: The thing I really love about Agile Open is that it's not your typical (commercialized) conference. It's like, BarCamp for Agile. I love the dynamics of it, the energy, the spontaneity that comes with the Open (unconference) structure. More than at any other event, Agile Open provides me with the opportunity to connect with people who share my interest, increase my knowledge, and develop a personal network. The fact that it's relatively small and goes on for two days gives me the support I need to develop meaningful relationships, not just a collection of business cards. This is the third year I've attended and second time I've had the pleasure-privilege of being on the steering committee; I hope you find the experience as enriching as I do.

In addition to producing events like this one, I'm an Agile project manager, a writer, an entrepreneur, a QA Engineer, a serious foodie, a Rubyist, a Usability consultant, a presenter, and a cat-herder for the BayAPLN Social Media Committee. I got a wife and a degree in computer science in an attempt to become respectable, but I'm not sure if it's working. Feel free to say hi or stalk me on Twitter , LinkedIn , Meetup , and Epicurious .

Artwork by Elizabeth McClellan
---
Agile Open California |
Agile Open California
Your Hosts